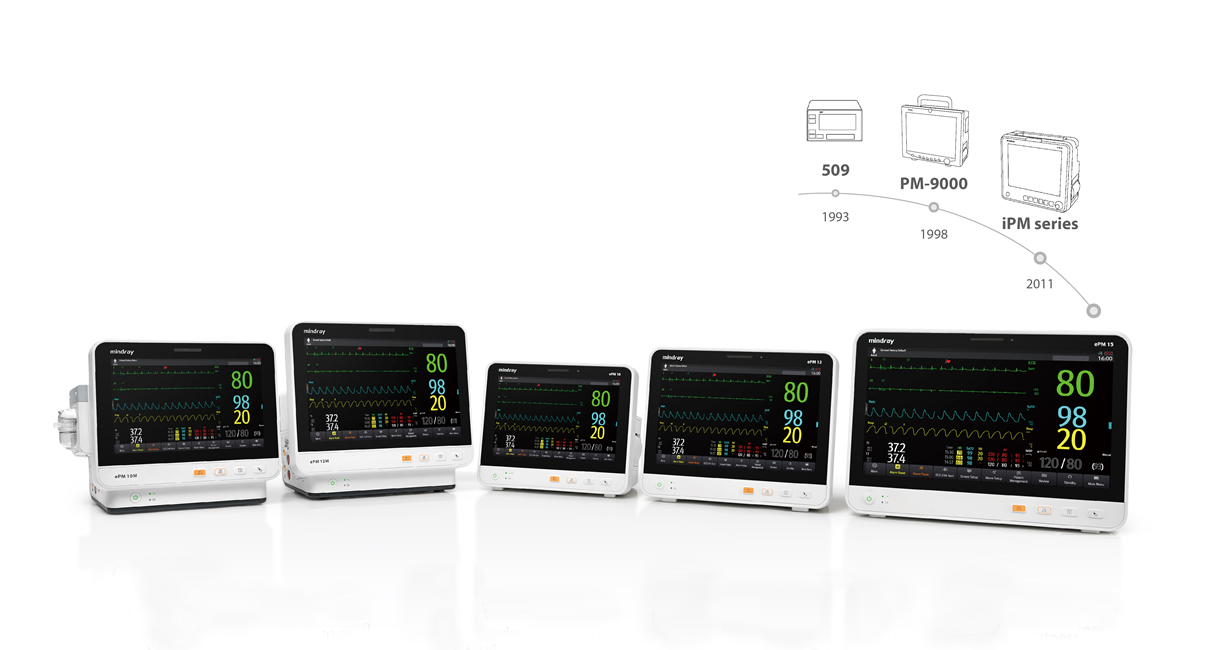 ePM Series
Your Sophisticated Information Manager for Critical Care
Inspired by the users' needs, these patient monitors utilize advanced technologies and turn them into easy-to-access, innovative solutions. The ePM series deliver outstanding visuals, intelligent solutions, accurate physiological measurements, seamless workflow and extensive connectivity possibilities for challenging hospital environments, like Recovery Units, Emergency Rooms, General Wards and Sub-acute Units.
Simple Design
ePM/Compact
Minimalistic design allows for easier cleaning
ePM/Modular
This model comes with expanding extension rack that accepts plug-and-play parameter modules that are also supported by Mindray BeneVision N series patient monitors.
Ease of Use at Your Disposal
The ePM utilizes clinical insight to optimize workflow and support bedside caregivers. ePM's simple design allows you to swipe the touch screen to quickly, easily and accurately switch between the most common interfaces and functions.
EWS – ePM patient monitors offer a point-of-care EWS calculator, which is used by clinicians to easily track and note signals of patient deterioration, allowing them to make quick and informed clinical decisions.
SpO2 – This target management dashboard is intuitive and can significantly decrease risk of excessive oxygen. With only 24 hours of SpO2-provided statistics, care givers can better evaluate the effects of the treatment.
OxyCRG – Increase safety in neonates by efficiently identifying apnea of prematurity as ABD event.
Accurate, Dependable Parameters
Platinum MPM parameters, along with the anti-interference solutions, provide unparalleled parameter reliability and accuracy.
Minimize False Alarms with CrozFusion
Inventive multi-parameter alarm analysis can decrease false arrhythmia warnings and increase the accuracy of pulse and heart rate.
Valuable and Convenient IT Solution
Mindray Central Monitoring System is developed to simplify patient monitoring with an accessible user interface, while simultaneously optimizing workflow efficiency and decreasing risk of patient deterioration. As a strong and extensively connective system it can provide an effective, secure and affordable monitoring.
ePM devices are able to connect to the CMS and eGateway either through wired or wireless networks, as well as directly connecting with other electronic medical records (EMR) using the HL7 output.
Flexible Mounting Solutions