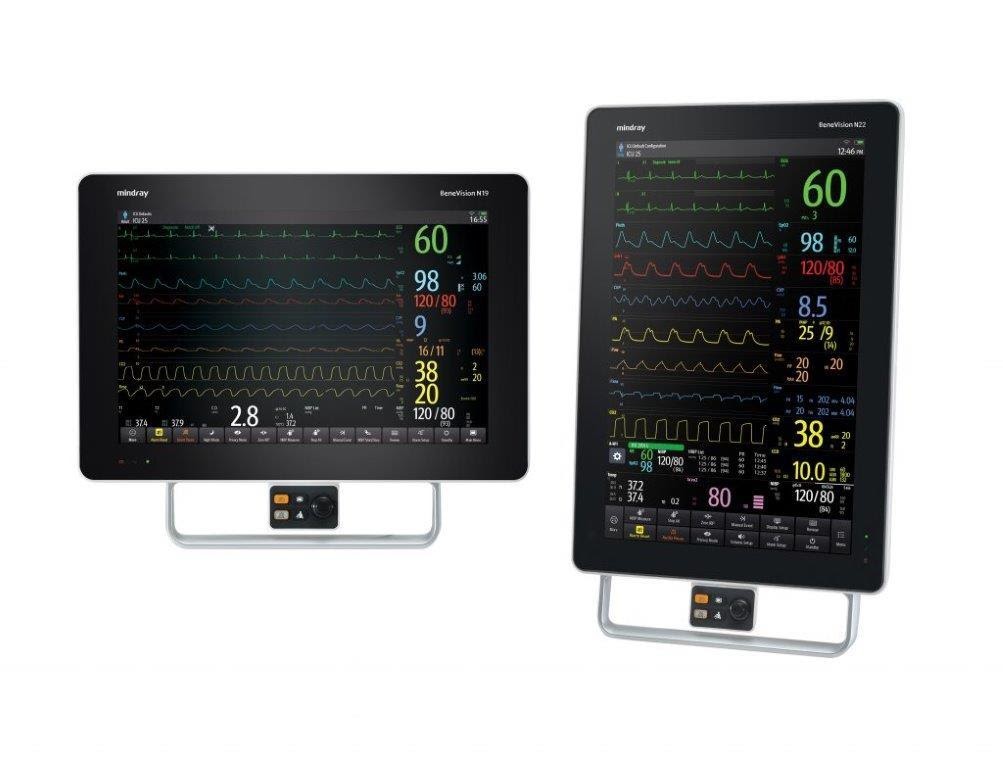 BeneVision N22/N19
Your sophisticated manager for critical care information
Mindray believes that creating the future is the only way to predict it. BeneVision N22/N19 is a revolutionary product created to improve user experience by ensuring that all your clinical demands are met. With stimulating and insightful design, unconventional ease of use, trust-instilling innovations and inter-operability that is able to transform your workflow, BeneVision N22-N19 is creating the monitoring future today.
Get a New Perspective
BeneVision N22/N19 has an innovative design that can provide you with a new perspective. You will have a seamless monitoring experience optimized by a huge touch screen, a unique rotatable view and portrait layout, as well as the ultra-thin main unit and plug-n-play modules. The original user interface includes flat menus with multiple windows, graphically presented alarm indications and an extensive online manual. This provides users with particularly insightful patient data and supreme ease of use. Meanwhile, automatic screen brightness keeps the patient in mind at all times.
Optimize Your Confidence
BeneVision N22/N19 can increase your clinical trust to the highest level and help you make quicker and easier clinical decisions. It can do this thanks to the most advanced clinical measurements like ICG, rSO2, AG, RM, PiCCO, BIS, NMT, as well as ultimate support tools for a clinical decision, like ST Graphic, HemoSight and DSA.
Designed for a Paperless World
Equipped with connectivity abilities that smoothly fit into your clinical workflow, BeneVision N22/N19 is made for a paperless future. The innovative iView workstation provides clinical informatics and displays all the necessary data (LIS, PACS, EMR, etc) on the screen to ensure a one-stop diagnosis. BeneLink seamlessly integrates all other bedside devices with the monitor in real time and enables centralized data management.