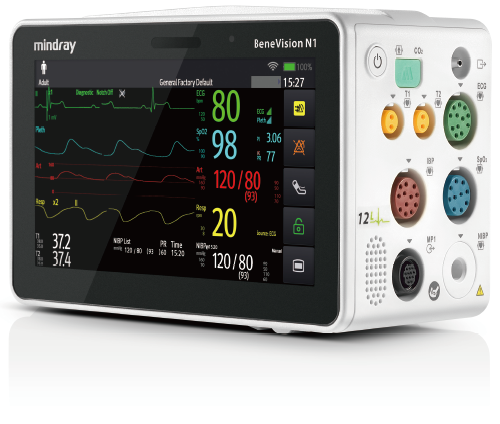 BeneVision N1
Have the Information at Hand at All Times
BeneVision N1 is a distinctly competent solution for numerous out-of-hospital transportation scenarios – in air and on land. Accordingly, N1 works in compliance with U.S. military standards and out-of-hospital transport standards like EN13718-1, EN1789 and IEC60601-1-12. BeneVision N1 provides unparalleled reliability and effective performance to improve your confidence and ensure secure patient care in transport, whether it is intra or out of hospital.
One Monitor, Many Solutions
N1 as a Transport Monitor
The upgraded data analysis significantly enhances the accuracy of parameters and anti-interference capability. N1's completely integrated side-stream CO2 module controls the patient's breathing by connecting directly to the sampling line, thus allowing caregivers to be free from manually expanding external modules.
N1 as a Multi-Parameter Module
You can go directly to the SMR or the module slot of the N Series monitors to check an extensive set of measurements of vital parameters. Combined with other advanced parameter modules, N1 can be suitable for the highest standards of critical care.
Companion Mode
When you connect with the host monitor from the N Series via cable connection to the N1 dock, you will be able to monitor patients on dual screens and have bi-directional control of monitors at bedside. This provides you with additional slot space with more complex parameters and improves your ICU workflow.
Independent Mode
Turn your N1 into a complete bedside monitor that supports additional parameters, improves functionality and scales up your screen settings.
Mirror Mode
This mode provides you with the ability to control functionality remotely and use two-way screen, as well as the ability to watch both the N1 unit and the 19-inch external display at the same time.
Data Collection Focused on Patients
Advanced parameters like BIS or AG from the host monitor will be stored in your N1 unit too when you connect it to the bedside monitor. You will also be able to check data trends and alarm events even when the monitor is not connected.
Complete monitoring function in a compact package